El Nido is one of the best destinations in the Philippines for those looking for a tropical beach paradise. Its beauty rivals that of Vietnam's Ha Long Bay and Thailand's Krabi. El Nido is located in Palawan Island, which is on the western end of the Philippines close to the northern tip of Sabah, Malaysia.
To get to Palawan Island, there are flights from major cities in the Philippines such as Manila and Cebu into Puerto Princesa International Airport. From Puerto Princesa, El Nido can be reached in about 6 hours by van, or slightly longer by bus.
Tips for travelling to El Nido
Be sure to carry enough cash for your El Nido trip because outside of Puerto Princesa, there are no ATMs available. Also, credit cards are not widely accepted.
There will be no electricity between 6am and 2pm, but most establishments run their own generators for guests. Be sure to recharge your batteries and mobile phones while there's electricity. If you own a powerbank, stock it up with enough juice to get you by during these timings.
All visitors in El Nido are required to contribute a PHP 200 (SGD 5.70) Eco-Tourism Development Fee, which is good for up to 10 days of stay. This will be collected by a Municipal Government Personnel by the beach before visitors board a boat for island hopping. Most tours include this fee in their tour packages.
Avoid buying pearls from locals in El Nido, especially expensive ones like south sea pearls or saltwater pearls, unless you are able to tell that it is authentic. Freshwater pearls are also generally cheaper in Puerto Princesa as compared to El Nido.
Island-hopping in El Nido


A trip to El Nido is not complete without going island hopping. A friend of mine hooked me up with Northern Hope Tours, with whom I went on "Tour A". This particular tour includes visits to Secret Lagoon, Schmizu Island, Small Lagoon, Big Lagoon as well as the 7 Commandos Beach. The last destination, 7 Commandos Beach, was subsequently changed to Papaya Beach.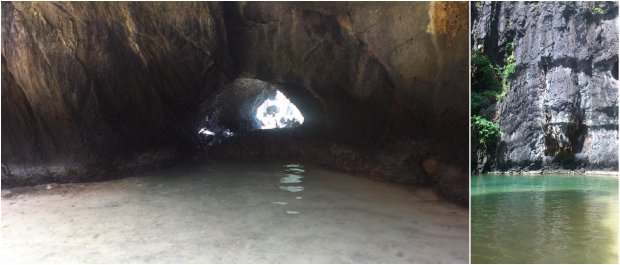 The first stop is the Secret Lagoon, which is hidden in a small island and surrounded by limestone karsts cliffs. When the tide is low, it is possible to enter through a crevice to see a massive caldera that was once a cave.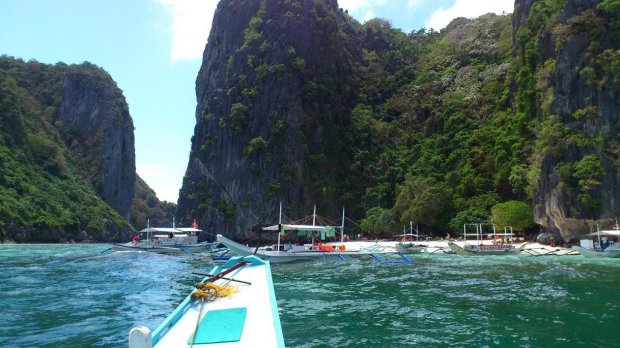 Next on the itinerary is Schmizu Island, which is packed with outrigger boats and tourists.  We lazed around the beach as the tour guides prepared a mouthwatering grilled buffet of fish, squid and pork, and fresh fruits for dessert.



En route to the Big Lagoon, our small boat had to brave huge waves. The ten of us onboard the outrigger boat bonded over the shared experience of surviving these nerve-wrecking giant waves. Unbelievable as it seemed to all of us, those waves we encountered were considered pretty tame as compared to months with rougher seas.
As we approached the lagoon, a respectful silence fell upon our group. The beauty before us took our breaths away and the only sound we could hear was the gentle lapping waves against our boat. Since this area is the breeding ground for marine life, the only activity allowed is sightseeing; swimming and snorkelling is prohibited.
The Small Lagoon, on the other hand, allows visitors to swim and snorkel. Here, marine life is abundant and the waters are so clear, I could clearly make out the rocky floor of the sea far below me. It was far too tempting, but unfortunately, I didn't know how to swim so I spent the time admiring the views, taking selfies and drying my clothes on the gently-bobbing boat.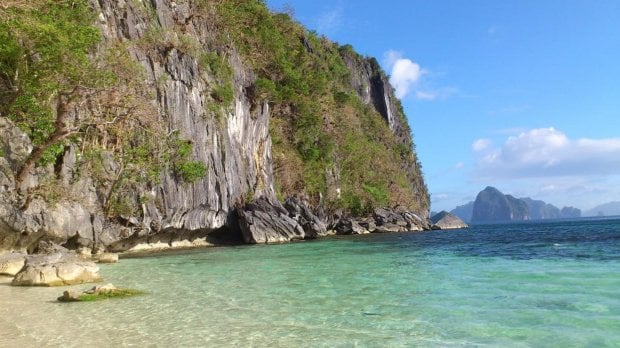 Last island destination is Papaya Beach, a stretch of fine white sand lined rows of coconut trees. We spent a blissful hour just chatting with one another amidst the gorgeous surroundings.
Tips for Island-Hopping in El Nido
Here are some tips for travellers thinking on joining an island-hopping tour in El Nido:
Be aware that there's always a part of the sea in El Nido that is populated by huge waves, and be prepared for it. I was lucky to have had excellent tour guides who manoeuvred the boat with fantastic skill, and even kept our minds away from the stormy sea by pretending to "race" another boat to shore.
Bring extra clothing to have something dry to change into, so you can scour the town for a good spot for an early dinner after the island hopping tour.
Try dining by the shore under the stars to complete your memorable day.
Time to start planning your trip to the Philippines now!
This article originally appeared on Tripzilla Magazine on March 25, 2015.