While the southern part of the Philippines boasts of beaches, the northern part got their own green jewels. I'm not talking about emerald stones here but the lush green beauty of the rice terraces.
Banaue is pretty far from Manila proper. It takes hours of road trip to reach your destination. I know it sounds discouraging but hey, the more difficult and uncomfortable the journey is, the more rewarding your trip is. As the cliché goes, it's all about the journey not the destination.
Here's a simple guide for those visiting Banaue for the first time.
Getting there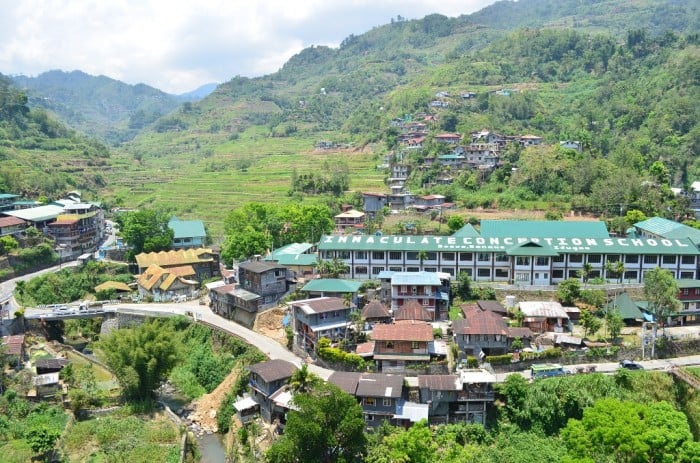 I don't like travelling at night. I've got a very active imagination and I don't want to enumerate all the possibilities that might happen. Thanks to road developments, there are 2 ways to get to Banaue.
For the brave ones, you can take the overnight Ohayami bus from Manila which takes about 9 hours of travel. For those who prefer to travel day time, you can endure 7-8 hours on the road to Baguio, then proceed to Banaue. Though it might take longer than expected, as an added bonus, you get to explore Baguio for the remaining hours of the day before you travel another 6-7 hours to Banaue. Coda Lines (formerly KMS) is (probably) the only transportation in Baguio that travels to Banaue during day time. They usually leave around 8 am.
I suggest buying your return ticket in advance to reserve seats before you leave Banaue. Coda Lines has van transfers leaving from Banaue to Baguio. Inform the ticket seller if you are carrying a huge luggage so you can pay for space and avoid inconvenience to the driver and other passengers. If you prefer to travel overnight, buses are also available to take you back to Manila.
Where to stay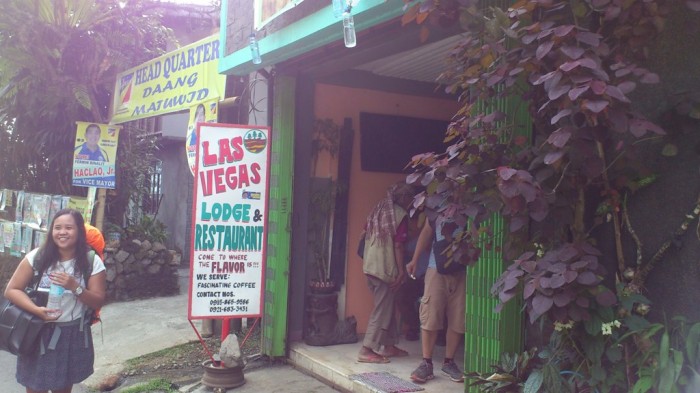 There are a lot of lodges and inns available to stay. You can check them out here. Majority of the lodges' sockets were located in the dining area or a common hall where everyone can people watch as they work on their backlogs, sip coffee or plan their next excursion in Banaue.
One of the lodges that we like is Las Vegas Lodge and Restaurant (not the one in the town) the one located across the Cordillera Sculpture Museum. It's very peaceful and you've got a different view of the terraces when you look out the window with a warm cup of coffee. It may be a bit far from the town but if you want to stay in a quiet place, this is your pick.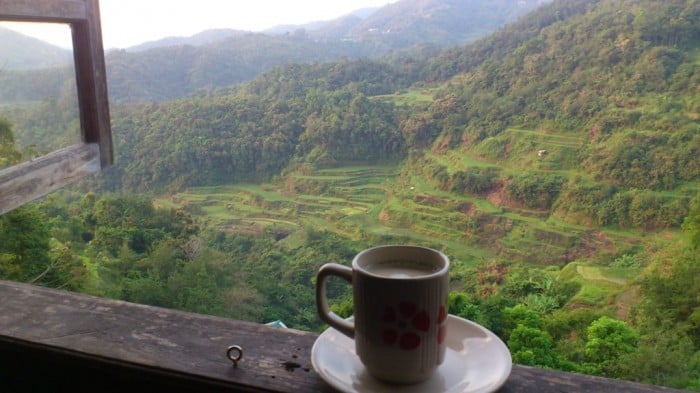 Another accommodation we love is Stairway Lodge and Restaurant. The people working behind this lodge speak Bisaya and we feel comfortable with our stay. It is situated within the town area and is convenient to backpackers. It overlooks the terraces (though not as nice as the one in Las Vegas Lodge and Restaurant) and has a small creek below.
This is the view outside Stairway Lodge.
Grabbing grub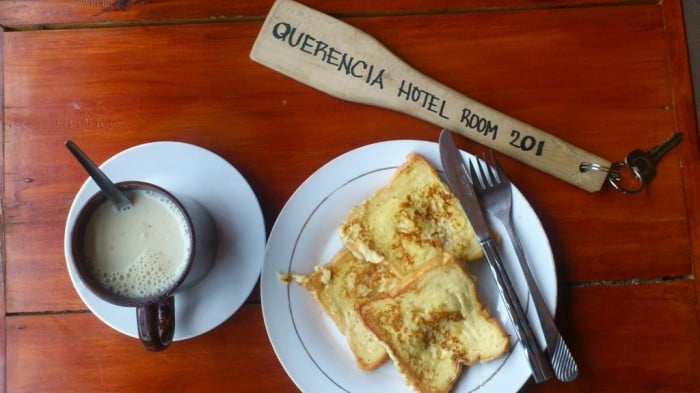 Most of the time, my travel buddy and I eat at the restaurants provided by our lodges. If we're feeling adventurous, we explore other restaurants like Peoples' Lodge and Restaurant for taste variety. Most restaurants got big servings to cater the hungry tummies of foreign tourists visiting Banaue. If we're feeling lazy, we stay put, open our gadgets to connect to civilization and just have a girly talk over coffee or beer at our lodge's resto.
It may sound funny but we had a hard time looking for a real coffee in Banaue. We can't wrap our heads around the idea that Sagada (which is part of the Mountain Province) has their own coffee while Banaue has none. Most of the establishments we've been to would serve you a 3-in-1 sachet coffee or if you order hot chocolate, you get a chocolate drink sachet with hot water. It's a rip-off BUT we were able to find an authentic Banaue coffee. After dining at 3 different restos, we found it in Querencia Hotel and Restaurant. They've got Banaue's brewed coffee and a much affordable menu.
Going around Banaue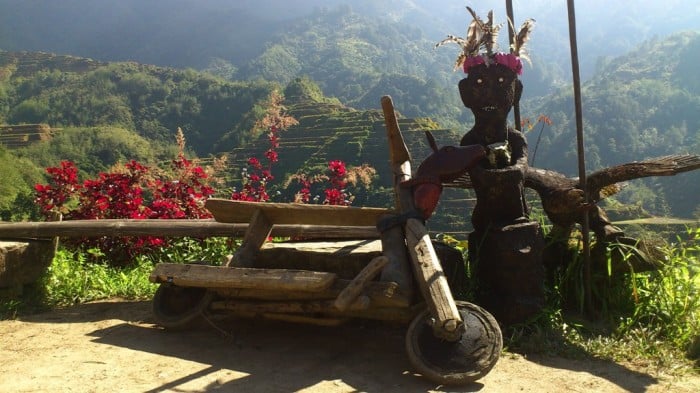 There are tricycles available at your disposal. Most of the locals are friendly and accommodating. We did a DIY tour in Banaue by making arrangements with a tricycle driver. We suggest you make a list of the places you want to check out in Banaue, agree on a working budget and hire a driver to take you around and have him act as photographer to immortalise your trip.
Banaue Trade Center
This is where most of the vans and buses drop tourists off. It is where the Banaue Tourism Office is located. Register at the tourism office and you will be asked to pay ₱20 per person. You can ask for assistance such as suggested lodges and trekking tours. Whenever I travel, I make sure to support local trade. Ifugaos are good at wood carvings so be sure to buy a few pieces that strike your fancy. Every carving is unique since most Ifugaos would carve them according to their vision and they don't sell them in the other shops. I was hunting down souvenirs for my friends back home when I spotted a wooden guitar ashtray. I tried looking at different souvenir shops but they don't sell the same thing.
Cultural awakening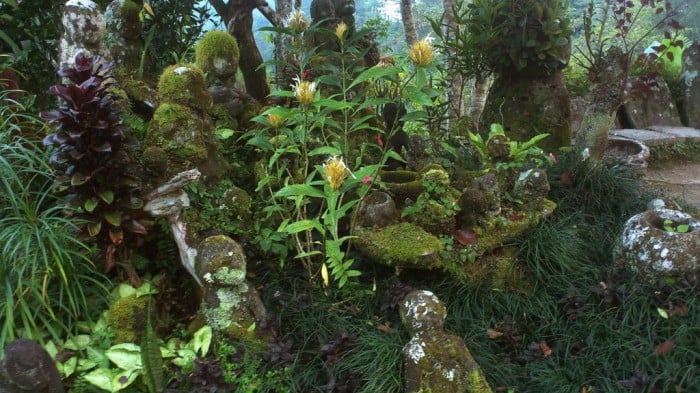 There are two ways to experience Ifugao culture: museums and talking to the locals. There's the Cordillera Sculpture Museum where you get to see tools used for hunting, and human skulls which were beheaded by Ifugao ancestors. Beheading (sort of) solves all inter-tribal issues.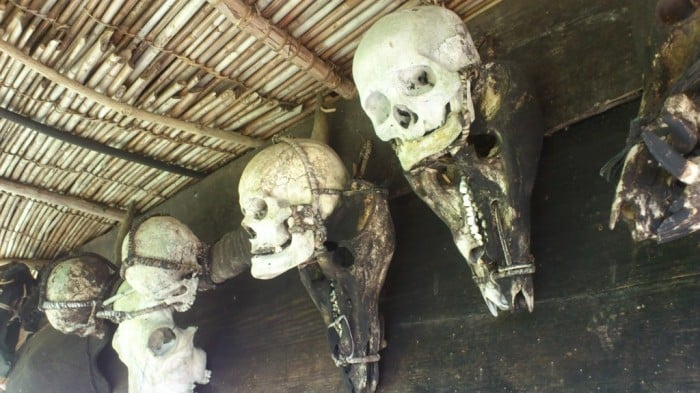 If you want to witness how the Ifugaos live in their huts, Hiwang Native House Inn offers their huts for lodging. When you wake up in the morning, the terraces will be the first thing you see. They also have extensive antique collection and wood carvings on display. The proprietor is very accommodating and guests can chat up with him when persuaded to share stories about his ancestors and their headhunting gigs.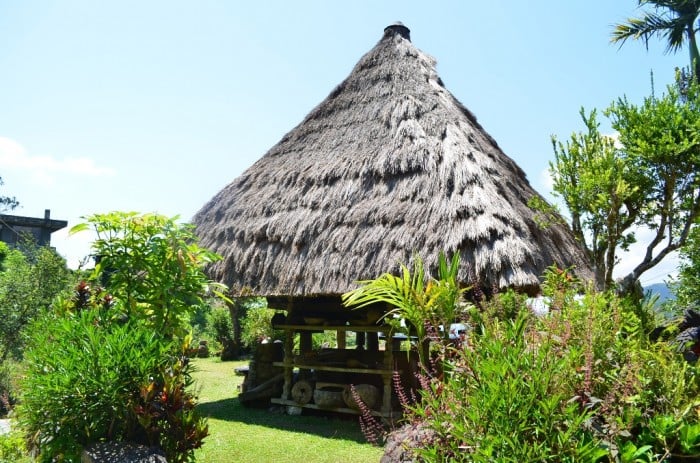 This is view from Hiwang Native House Inn.
Learning the local dialect is definitely a plus to the Ifugaos. I greet most locals "Maphod an nawiit!" (Good Morning) with a smile, and most of the time, they're charmed. While you're at it, talk to your driver and ask him about the Ifugao culture. You would be surprised that you learn a few things off the guide book.
Roughing it up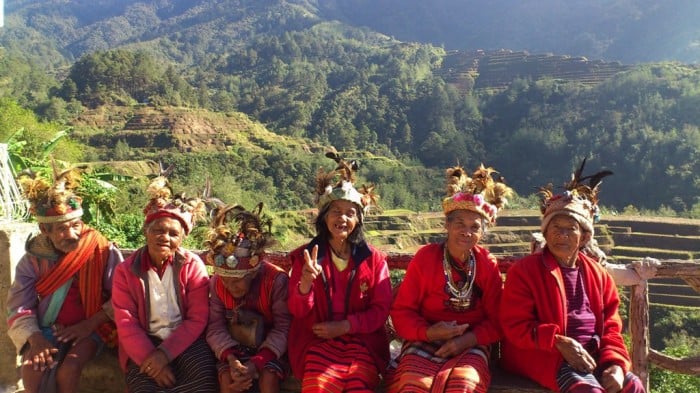 When in Banaue, be sure to visit the four Banaue viewpoints. Most of the viewpoints have Ifugao elders dressed in full regalia for photos. You have to ask for their permission and obliged to pay a tip. Souvenir shops are also available in each viewpoint. If you're lucky, you can score a cute Ifugao skirt at one of the shops.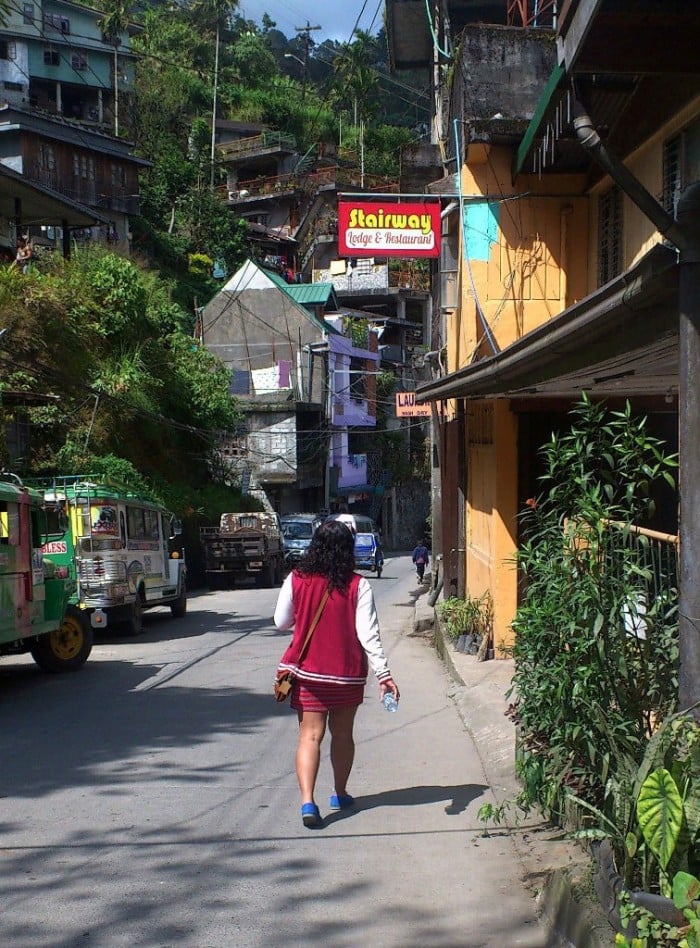 If you can't find an Ifugao skirt like the one Kareen is wearing, you can buy an Ifugao-style table runner and do it DIY-style or ask a professional to customise your skirt.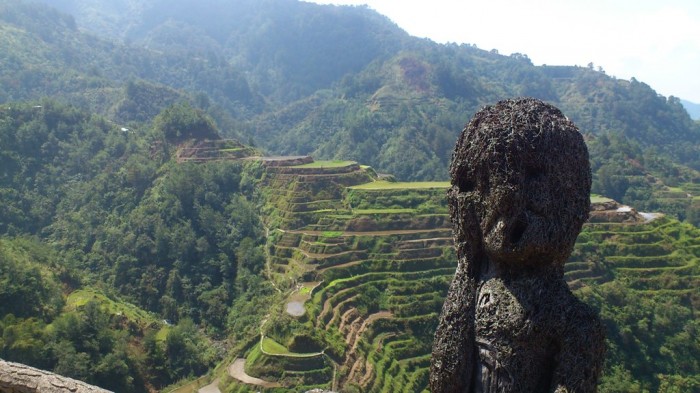 This is a breathtaking view from one of the view points.
Most first time visitors would be in awe when they saw the magnificence of the rice terraces. To see the terraces at their greenest, visit Banaue from June to September, and if you want to see them in their golden glory, go there from October to November. If you don't want to miss their harvest season, go there in August. Just to be safe and free from isolated rain showers (you can't avoid them in Banaue), you can visit during summer from March to May.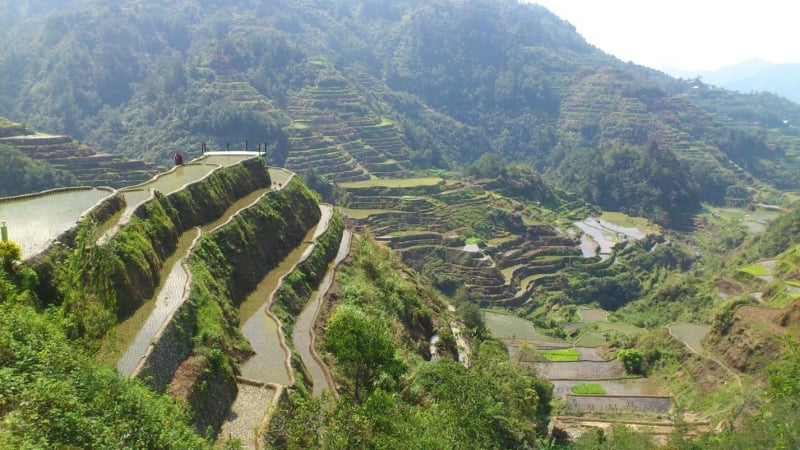 The photo above is the terraces you'll find in the ₱1,000 bill and the controversial Red Bull commercial.
Travel tips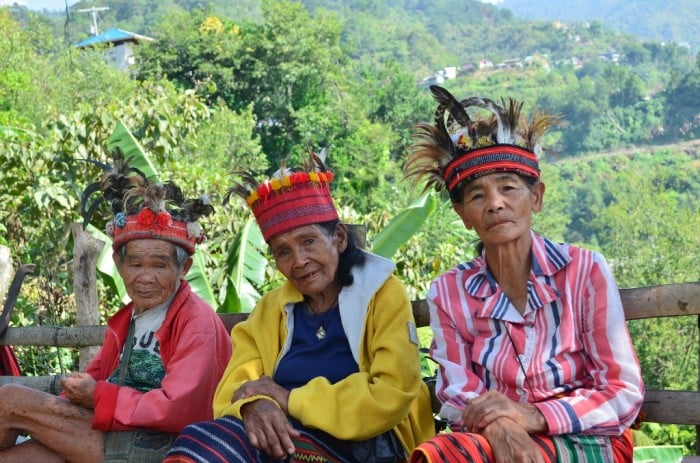 There are no ATMs available, travellers must bring enough cash.
Van transfers can be tricky if you want to take the day trip back to Baguio. Be sure to bring a non-wheelie case and limit the size of your luggage to avoid inconvenience to other passengers.
Bring your power banks; charging your gadgets can be challenging if guests are fighting for available sockets. As previously mentioned, most of the lodges and inns have their sockets available in the common area. Some charge a minimal amount for charging your gadgets.
Mobile signal is intermittent, but Globe network is more reachable over Smart and Sun Cellular. If you ask me, this is a good way to disconnect from the internet and connect with nature.
Weather can be unpredictable in the highlands so bring a jacket and umbrella in case it rains.
Whenever you want to have your picture taken with an Ifugao, you are obliged to give a tip. You'll be surprised by Ifugaos converse English fluently; they don't speak or understand Filipino that much.
Put your trust on strangers because you'll never know that you might hitch rides with them if you wander beyond the busy district area where there's no tricycle or public transportation readily available.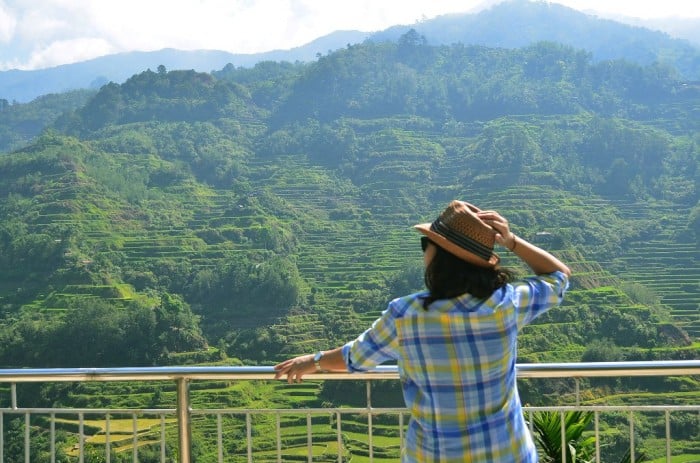 Looks like you are ready for a real adventure. I hope I've given you enough reasons to visit the Banaue Rice Terraces for the long weekend.
This article originally appeared in Tripzilla Philippines on June 14, 2016.