Travelling to Korea is the in thing now and this doesn't come as a surprise. The Korean wave that has been sweeping the world over the past few years has contributed to making Korea a popular destination for travellers. They come for various reasons: the culture, nature, entertainment, food, and of course, bargain shopping.
Seoul is considered a shopping mecca for fashionistas and K-POP fans. Before you hop on the next flight to Seoul to do some shopping, there are a few things you should know about Korean clothing sizes lest you get the wrong sizes for your family and friends.
Many of us from Singapore are used to standard sizes, or US/UK/European sizes. It is important to be able to translate these sizes into Korean-standards when shopping in Korea. To save you the trouble of this task, the easy-to-use size conversion charts below have been produced. Save these charts into your phones, and use them as a reference while shopping in Korea!
Korean clothing sizes for women and men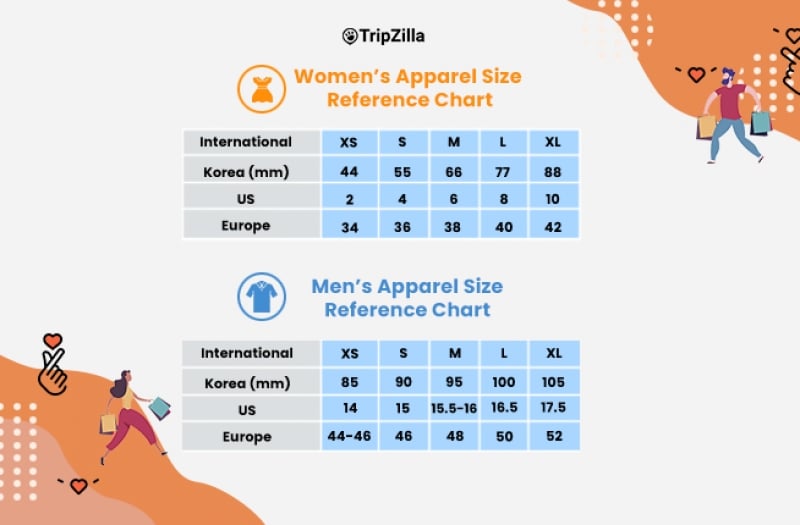 Shopping for Korean clothes can be a little tricky, especially for females, because sizes are measured according to Korean frames. For example, a Korean female extra-large size is equivalent to American large size.
The most produced size for women's clothing is "55" (international size "S") and many trendy Korean brands do not carry sizes larger than "66" (also international size "S"). This may cause disappointment to women whose bodies usually fit into in international size "M" or larger. Men, on the other hand, are less likely to come across this problem as the whole range of international sizes from "XS" to "XL" are commonly produced and found in stores.
Many stores that sell less-commercialised brands carry free sizes. Free-sized clothing is supposed to fit many average-sized bodies but one can never be too sure. If there is a chance to try it on before buying, please do. Otherwise, you can try to gauge the size of the item by measuring it against similar clothing items with a stated size.
Korean shoe sizes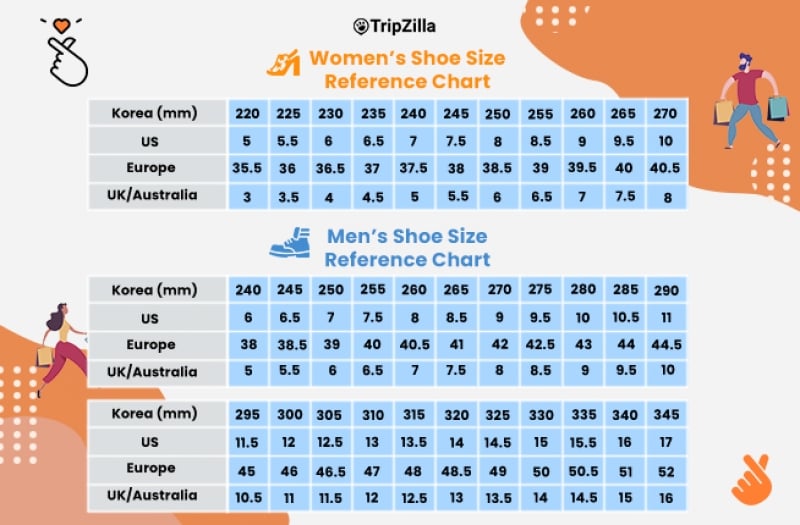 For shoes, major Korean brands provide custom-made services if your size is not available. There is no extra charge for this service, but delivery charges may apply for some stores.
Korean clothing sizes for baby and children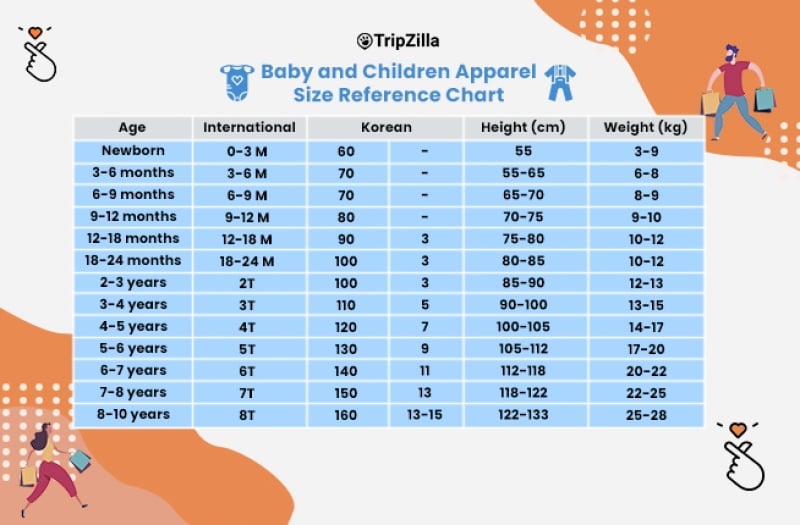 For children's clothing, labels have height and weight specified on them instead of age, and this tend to be a better indicator of size. If it is not possible to bring the child along during the shopping trip, do remember to note down the height and weight of the child.
With these handy size conversion charts, you are now more than ready to embark on your shopping mission in the streets of Korea!
This article originally appeared in Tripzilla Magazine on May 13, 2020.