Silay, Bacolod is home to Bacolod's airport, heritage houses, their famous guavapple pie, and an old church. Silay used to be the capital of Bacolod, earning the nickname "Paris of Negros" or the "Visayan Marseille" because of its cultural shows, artists, and collection of beautifully preserved heritage houses. Thanks to the flourishing sugar industry in the 1850s, sprawling mansions, and Baroque churches are scattered throughout the province.
Spanish culture is evident along with European fashion and art. Most of the locals are sugar barons or hacienderos. Being descendants with Spanish blood, some of these bourgeoisies are mestizas and mestizos.
Legend of Kansilay
Legend has it that Silay got its name from a brave warrior princess named Kansilay. She is often depicted in the murals as a fierce warrior wielding a huge talibong, a short native single-edged sword. She died bravely, fighting against the pirates when they attacked her village. Her people buried her and the first kansilay tree grew right over her grave. The kansilay tree is the city's official tree.
Getting there
You can start your Bacolod cultural immersion or end your trip in Silay. If you still have plenty of time to kill before your flight, most travelers would recommend dropping by Silay before going home.
Take the bus or the jeep from the terminal if you are coming from Bacolod City. In my case, I took the bus. The non-aircon costs ₱17.00 but I opted to go for the airconditioned one which costs ₱55.00 because it was so hot. I just want to spend 45 minutes relaxing away from the heat.
Sights
There are 31 recognized ancestral buildings in Silay, three of which are open houses converted into museums and a bakery. Unlike Vigan, where commercial establishments adapt to the old building's theme, Silay was able to preserve its heritage houses.
Hofileña Ancestral Home
Located in Cinco de Noviembre Street, the Hofileña Ancestral Home contains one of the Philippines' finest and rarest art collections and antiques. The Hofileñas is one of Silay's principal families. Their ancestral home is the repository of a private art collection of paintings by Fernando Amorsolo, Juan Luna, Felix Hidalgo Resurreccion, Ben Cab, and even drawings of Jose Rizal when he was still a student. They also showcase the works of an unknown Silay-born billboard artist, Conrado Judith, who received no formal art training but uses rare mediums that will make your jaw drop. The artist's paintings and drawings were discovered in the hut after his death.
The ancestral home is owned by a charming gentleman named, Ramon "Mon" Hofileña, one of the living direct descendants of Manuel Severino Hofileña. His passion is all about preserving the cultural heritage of Negros Occidental. He also hosts the Annual Cultural Tour of Negros Occidental which started in 1973. The Hofileña Ancestral Home is the first inhabited house in Silay to be declared as a national historical landmark.
Entrance Fee: ₱60.00
Students: ₱30.00
Balay Negrense Museum
The Balay Negrense is also known as the Victor Gaston Ancestral Home. It is built of balayong hardwood in 1898 and has the most photogenic house exterior in Silay. Victor's father, Yves Leopold Germain Gaston, a French businessman, is credited as the first to cultivate sugar cane commercially in the region. The house was abandoned when his children found opportunities outside Bacolod.
Entrance Fee: ₱60.00
Students: ₱30.00
Bernardino Jalandoni Ancestral House
The Bernardino Jalandoni Ancestral House was built in 1908 and fondly known as "Pink House" for being pink. Historical items such as old ironing board, flat iron, kitchen, and dining wares can be found in this ancestral home. On the ground floor, which used to function as a garage or where the carriages are parked, there is a delightful collection of Ken and Barbie dolls dressed in traditional Filipino costumes and reenacting famous historical figures such as General MacArthur and Imelda Marcos.
Entrance Fee: ₱60.00
Students: ₱30.00
Cinco de Noviembre
Cinco de Noviembre is the date of the first bloodless revolution in the Philippines a.k.a. "Negros Revolution", happened on November 5, 1898 (Cinco de Noviembre). History said that Negrenses came up with a courageous strategy to deceive the Spaniards. Revolutionists led by Gen. Juan Araneta (from Bago) and Gen. Aniceto Lacson (from Talisay) were seen carrying fake rifles carved out of nipa stalks and cannons of bamboo mats painted in black. The element of surprise was in their favor. When the Spaniards saw them from afar through a hazy telescope, they surrendered themselves. This important event made us realize two things: creativity wins and make a habit of cleaning your telescope.
San Diego Pro-Cathedral
San Diego Pro-Cathedral is an early 20th-century church in Silay City. It is the only pro-cathedral outside Manila and the only church in Negros Occidental with a dome or cupola. Italian architect Lucio Bernasconi is responsible for the design of the church, taking inspiration from the Italian churches. The church's layout is that of a cruciform or shape of a Latin cross with a cupola rising 40 meters above the nave.
Where to eat
El Ideal Bakery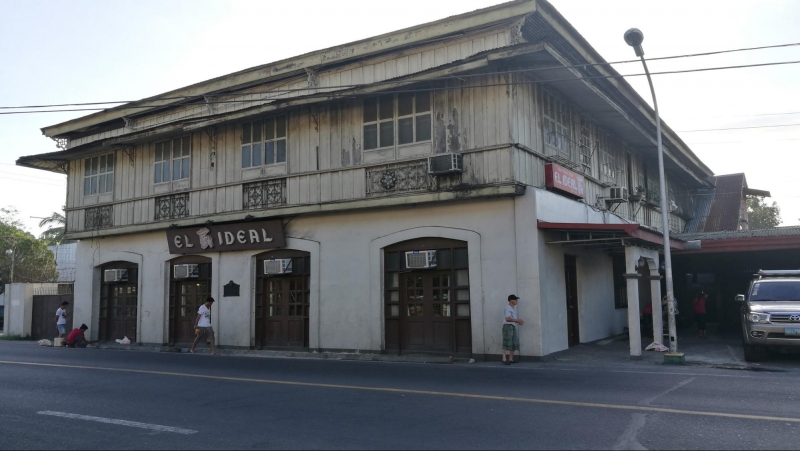 El Ideal Bakery is a popular bakery during Silay's heyday in 1920. They say that the bakery provides snacks for gamblers who couldn't drag themselves away from the gambling table. El Ideal Bakery is best known for guavapple pie, IMHO, is an acquired taste. You can find this bakery near the jeepney stop bound for Bacolod.
Café 1925
A cozy cafe near El Ideal Bakery that offers delicious food after an educational heritage tour around Silay. Though the place is small, it offers delicious food at pocket-friendly prices.
ICYMI, Bacolod, and Iloilo are my first two destinations as a solo traveler. Silay City is one of those Philippine destinations that value history and they still continue to preserve all these antiques and restore old houses so that history buffs and culture vultures like me can admire.