Bantayan Island is a peaceful piece of paradise located in the northern part of Cebu. It is approximately 4 hours away by bus to Hagnaya port, and more than an hour away from mainland Cebu via boat. It is divided into three municipalities: Santa Fe, most frequented by tourists for its long stretch of white sand beaches; Bantayan, the heart of the island known for its old church; and Madridejos, a fishing village where the fort ruins stand with a beautiful view of the sunset.
Bantayan got its etymology from the Cebuano word bantay which means "to watch over". The island served as a Spanish base against Moro pirate invasions. Its watchtowers and fortifications gave its name "Bantayan sa Hari" (Watchtower of the King) which was then shortened to "Bantayan".
Getting around the island
Aside from enjoying the beach, getting a tan and swimming to your heart's content, there are a lot of interesting things to do while on the island. The town was built according to the Spanish central plan where the school, plaza and church are placed neatly in the middle of the town. Be sure to bring enough cash because the nearest ATM is only found in the town proper of Bantayan.
1. St. Peter and St. Paul Parish
This is one of the oldest parishes in Cebu founded by Augustinian missionaries on June 11, 1580. The church was built with limestone and coral that showed signs of old age with its green tinge crawling on certain parts of the church as well as on numerous stone carvings of religious bas-reliefs.
2. Kota Ruins in Kota Park
Well-preserved Spanish fort ruins can be found in Kota Park in Madridejos. It used to be a look-out place for Moro pirates then turned it into a park.
3. Ogtong Cave in Ogtong Cave Resort
That's right, there's a cave in the middle of a beach resort. Visitors can swim in its cool crystal clear waters. Walk-in guests are welcome with a minimal fee.
4. Bantayan Island Nature Park and Resort
This is an eight-hectare nature park that features caves with pool and pocket gardens.
5. Beaches
Island hopping, swimming and relaxing on white-sand beaches are popular tourist activities. One can enjoy the beauty of the white sands in Santa Fe or hop on an outrigger boat to explore Virgin Island.
6. Bontay Baywalk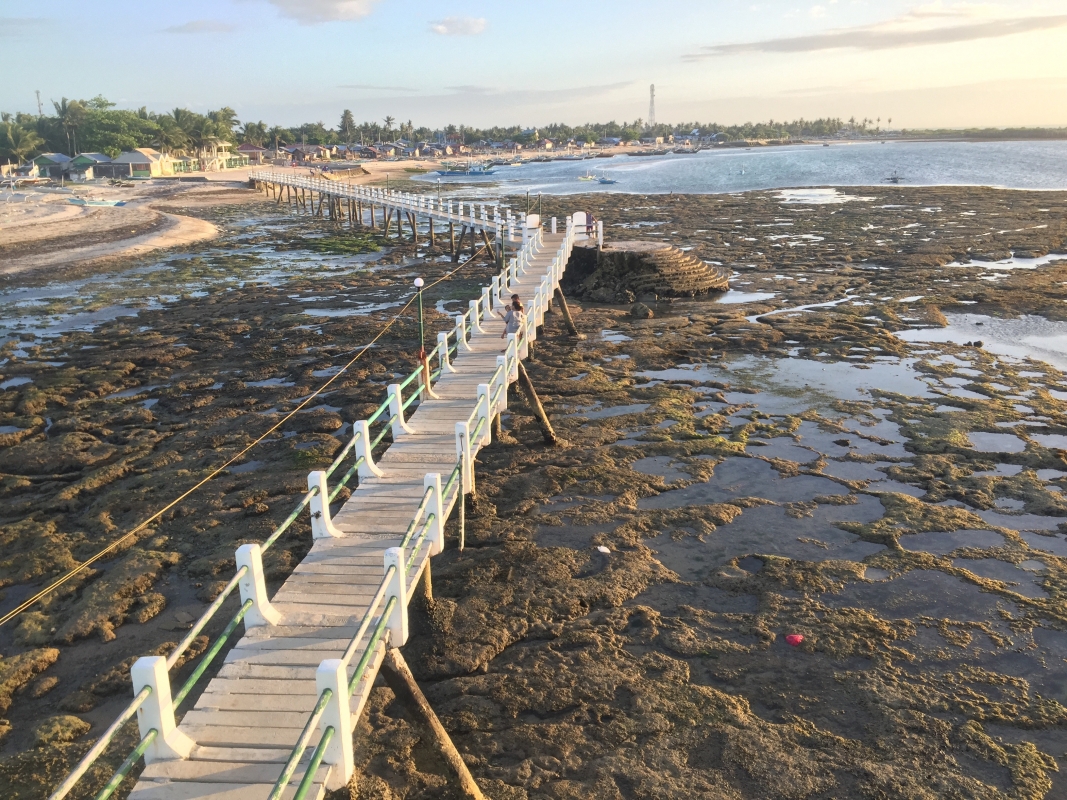 Also known as Lawis to the locals, Bontay Baywalk in Madridejos is a 187-metre promenade where you can enjoy the sea breeze and wait for the setting sun.
7. Sunrise
The best place to catch the sunrise is Kota Beach in Santa Fe. Most of the time, the sun shies away and hides behind ominous-looking clouds, and it will take few more minutes than originally scheduled to rise to its sunrise glory. Seeing it without the killjoy clouds is a real treat because it reflects beautifully to the calm waters. And as an added bonus, you get to enjoy an amazing blend of purple, pink and orange hues at dawn before the sun rises.
8. Sunset
Beautiful sunsets can be seen from Kota Beach as well, if you don't mind the coconut fringes. You may also catch sunsets in other parts of the island but the best seats for the sunset can be seen from the baywalk in Madridejos.
9. Night scene
If you are itching to party, there are a handful of videokes, bars and live bands for those who fancy a night out in town.
10. Good grubs
Food plays an important role when travelling. It is a mortal sin not to indulge in local flavour every now and then. Food service in Bantayan is a bit of a challenge. The island is still in the process of recovering from the wrath of super typhoon Yolanda (Haiyan) in 2013 and service is way slower than usual. Either that or this is how the way things are run in the island. Locals recommend HR Music Bar and Restaurant, Arjaymay Sutukil and Cou Cou for seafood and grill treats.
Getting there
In order to reach this paradise, one has to go through a few modes of logistics such as:
By plane: Take a flight from Manila to Cebu, but sometimes, there's a direct flight going to Cebu.
By taxi or jeep: From Mactan International Airport, go to North Bus Terminal in North Reclamation Area, Mandaue (not be confused with South Bus Terminal) to take the bus bound for Hagnaya or Bantayan.
By bus: There are some buses that go straight to the island but others just drop you off at Hagnaya port where you can take a ferry to Bantayan Island. Buses in North Bus Terminal leave every hour but weekends tend to be busy so be sure to take the early morning schedules. It takes about four hours to reach Hagnaya port.
By boat: Upon reaching Hagnaya port, elbow your way to the ticket booth to buy boat tickets to the island. Travel time is about an hour. Be ready for loose change as there is a terminal fee to be paid separately.
Reaching Bantayan Island is no easy feat. You have to go through an approximately five-hour long trip to get there, but I assure you, this island paradise is totally worth your time and effort. Bantayan Island will make you fall in love with its rugged charm.
This article originally appeared in Tripzilla Magazine on October 15, 2015.