Festivals or fiestas add more colour and meaning to the Filipino culture. Take away these celebrations and the Philippines will never the same. The country celebrates various festivals every month with themes that range from religious to cultural and indigenous.
In fact, there's just too many festivals, and it would be hard for you to celebrate all of them in a single year. To help you make your pick, I'm listing 12 of the most exciting ones for you to anticipate, from January to December.
1. Sinulog
Where: Cebu City
When: Every third Sunday of January
'Sinulog' comes from the Cebuano adverb "sulog" which means "like water current movement". It describes the forward-backward movement (two steps forward and one step back) of the Sinulog dance. This dance is performed to the beat of the drum. The festival is celebrated in honour of the Child Jesus, Sr. Santo Niño. Fluvial Procession happens the day before the grand parade and in the afternoon, a formal procession participated by Santo Niño devotees takes place. On the feast day, a Pontifical Mass is given by the Cardinal with several bishops of Cebu, followed by the Sinulog Grand Mardi Gras.
2. Panagbenga Festival
Where: Baguio City
When: February 1 to first week of March
Panagbenga is a kankanaey term for "a season of blooming". The festival showcases floral floats and native dances.
3. Pintados de Passi Festival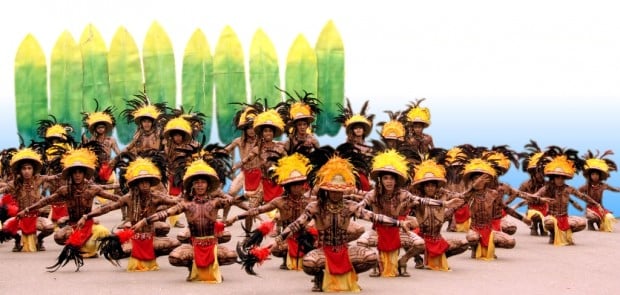 Where: Ilolilo
When: Every 3rd week of March
Pintados de Passi is one of the best-known festivals in Iloilo. Performers are adorned in traditional body tattoo with intricate designs on their bodies. They interpret stories about the town's history and their way of life through theatrical street dancing performances with aggressive body movements. Highlights of the celebration include Sinadya sa Suba, Carabao Painting contest and Pinta Lawas.
4. Moriones Festival
Where: Marinduque
When: Moveable, depending on the Holy Week schedule
The Moriones Festival is a folk-religious event held during Lent in Marinduque. Its etymology, "Morion" refers to the visor of the helmet worn by the Roman soldiers. "Moriones" refers to the locals who dress up in Roman soldiers costumes and masks. These locals are fishermen and farmers who participate in the street theatre as a form of penitence.
5. Flores de Mayo and Santacruzan
Where: Local barrios and barangays nationwide
When: Within the month of May
Flores de Mayo (Spanish for "Flowers of May") is a festival honouring the Blessed Virgin Mary that lasts the whole month of May.
On the last day of Flores de Mayo, a pageant called Santacruzan is celebrated in honour of Queen Helena (Reyna Elena) of Constantinople and her son, Constantine the Great, in finding the True Cross of Jerusalem. She carries a small cross and escorted by his son under a huge canopy of flowers. Reyna Elena is accompanied by the beautiful Philippine maidens and their handsome escorts under the hand-carried bamboo arc decked in flowers.
6. Parada ng Lechon (roasted pig parade)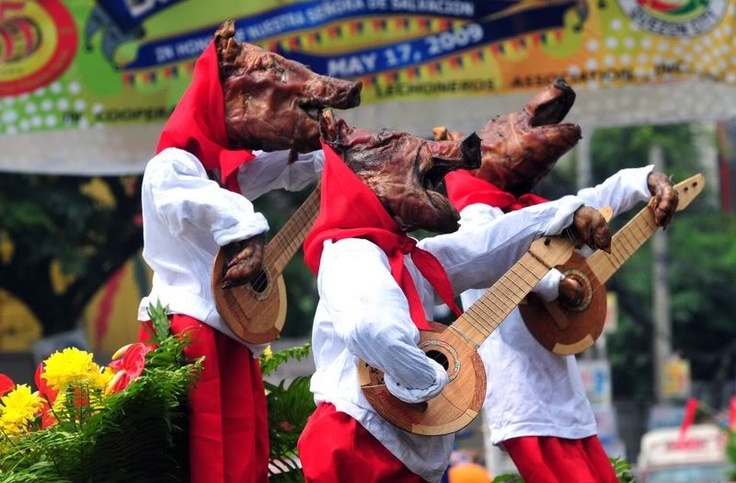 Where: Balayan, Batangas
When: June 24, feast day of San Juan (St. John the Baptist)
Batangas is known for its lechon as its delicacy and it adapted the tradition to serve lechon during celebrations. The pigs are roasted, dressed in costumes and brought to the church. Roasted pigs line up the church patio while the mass is celebrated and they are blessed in honour of St. John the Baptist. The street parade showcases the roasted pigs in their colourful and outrageous costumes. Bystanders then drench the participants with water. This act signifies the baptism of Jesus by St. John the Baptist.
7. Sandugo
Where: Bohol
When: July 1-31 with big activities on 3rd or 4th Sunday
In the 16th century, Bohol leader Datu Sikatuna and Spanish conquistador Miguel Lopez de Legaspi sealed their treaty friendship with blood compact or "sandugo". It is a month-long celebration with highlights on beauty pageants and street dancing on the third or fourth Sunday of July.
8. Kadayawan sa Dabaw
Where: Davao
When: every third week of August
The festival started way back in 1986, and was formerly known as "Apo Duwaling," taken from the country's highest peak: Mt. Apo, durian fruit and waling-waling. In 1988, the festival was renamed "Kadayawan sa Dabaw" to honour Davao's cultural heritage, history, abundance of flowers and fruits. Citizens celebrate on the streets and parade in full regalia in thanksgiving for their rich blessings.
9. Tuna Festival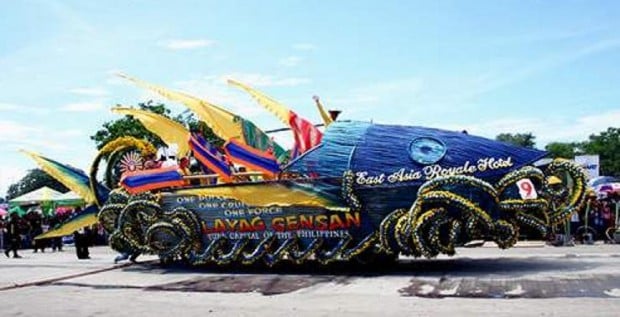 Where: General Santos City
When: September 5-13
As a tribute to the Generals' tuna industry, they pay homage by celebrating their city-hood with what they are known for: tuna. Tuna Festival is a weeklong celebration with tuna float replicas street parade, dance, music and art.
10. Masskara
Where: Bacolod City
When: October 14-21
Coined from the English word "mass" and the Spanish "kara" (means face), Masskara Festival is celebrated every third weekend of October or the closest weekend to October 19. It started in 1980s when the sugar industry took a nosedive and Bacolod City, the country's sugar capital, was affected. The government took matter in their own hands and decided to throw a party to uplift the people's spirits. The festival is a reminder to the Negrenses to put a smile and a positive attitude when faced with challenges.
11. Higantes Festival
Where: Angono, Rizal
When: November 23
"Higantes" are paper mache giants towering four to five feet in diametre and ten to twelve feet in height. Paper mache art making is quite popular during the Spanish era. The Higantes is a major festival in honour of San Clemente (patron saint of fishermen). The festival dates back when Angono was a Spanish hacienda. Hacienda owners were a bit uptight about money and prohibited all celebrations except one annual fiesta. Townsfolk make best of the situation, created larger-than-life cartoon of their Spanish landlords—a typical Filipino combination of part stunning spectacle and an inside joke.
12. Giant Lantern Festival
Where: San Fernando, Pampanga
When: December 15-31
The word "parol" came from the Spanish term "farol", which means light or lantern. Filipinos regarded the parol of star lantern as a sign of hope and a fount of light. Each barrio created these lanterns using bamboo and other indigenous materials. Each of the barrio's parols are brought around in procession to their vista during the nine-day novena mass before Christmas which coincides with simbang gabi from December 16 to 24. On Christmas Eve, the lanterns are brought to the church along with the barrio patrons before the midnight mass starts. The San Fernando lantern industry evolved from the Giant Lantern Festival of San Fernando.
This article originally appeared in Tripzilla Magazine on September 8, 2015.