After visiting the two churches in Bacolod, it's time to visit three more in the City of Love. I know, I know. This is the part where I would say that I saw the church where I can see myself getting married in but sorry to burst your bubble (I'm talking to my mothership and titas), I'm just visiting. Let's put it this way: I'm visiting this church as part of my Eat Pray Love journey of my first solo travel. Period. Obviously, this is the Pray part.
Molo Church (St. Anne Church)
First stop is the castle-like European Gothic beauty, St. Anne Church or Molo Church. It has pyramidical red spires that gives off a Disney-like feel. In fact, Philippine National Hero Jose Rizal once said "la iglesia bonita!" And I couldn't agree more. One of my favorites.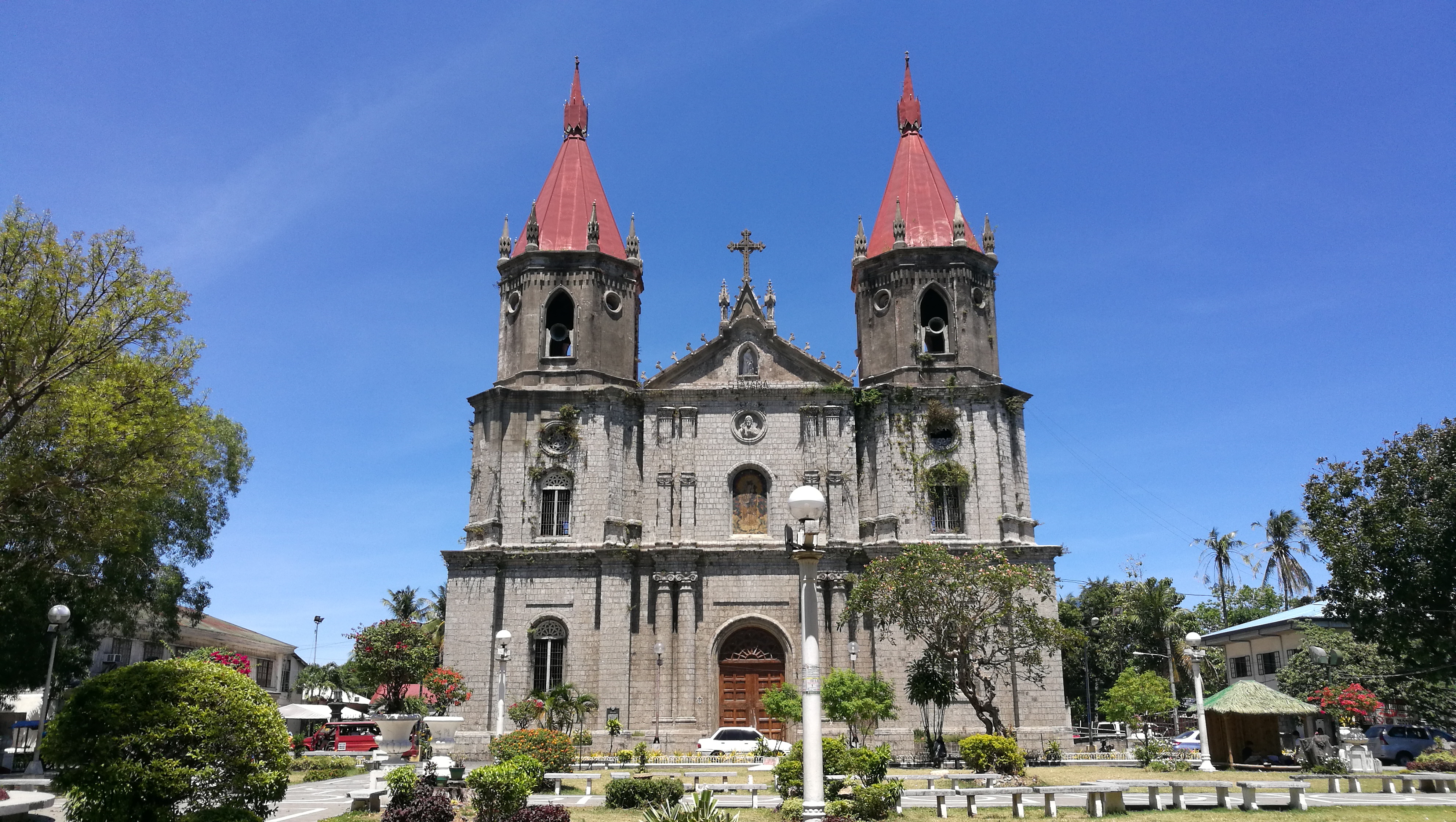 It earned the moniker "women's church" because of the 16 images of women saints found inside:
St. Apollonia
St. Clara
St. Cecilia
St. Felicia
Sta. Genoveva
St. Isabel
St. Ines
St. Juliana
St. Lucia
St. Magdalena
St. Marcela
St. Margarita
St. Marta
St. Monica
St. Rosa de Lima
St. Teresa
And let's not get started on the white gazebo where 6 Greek goddesses situated outside the church in the Molo Plaza.
Somehow, I find it contradicting since it is Catholicism and Hellenic Polytheism figures found in one place.
Jaro Cathedral (Our Lady of Candles National Shrine/ St. Elizabeth of Hungary)
My Iloilo friend, RM, picked me up outside Molo Church and we went to Jaro Cathedral. It was Saturday and a lot of people were in the church for the mass.
The national shrine's Romanesque Revival facade has stairs leading up to the Our Lady of Candles shrine. Up close, the image is made of smooth ivory that reminds me of miraculous images that cry tears of blood. The structure of the church faces the bell tower across the street instead of beside it. When we visited Casa Mariquit, there used to be a secret passageway from the house that leads to the belltower.
I looked for the place where I can light a candle or two and say a little prayer but found none. But I noticed a lot of people lining up to two galvanized iron sheets shaped to form a box and that, ladies and gents, is the candle-lighting area. It was my first time to see that instead of the usual proper candle holder. I have to wait for my turn and almost burned my fingers from positioning my colorful candles strategically on the sides amongst melted ones.
Miag-ao Church (Sto. Tomas de Villanueva Parish Church)
On Sunday, I took the jeep from the terminal at the back of Robinsons mall going to Miag-ao. The trip lasted for about an hour or so. The jeepney driver dropped me off in front of the church. When I saw the church, my jaw dropped a bit–it is a beauty! And it has a good reason to be one because the Sto. Tomas de Villanueva Parish Church is one of only four Augustinian-built churches in the Philippines that were included in the UNESCO World Heritage list.
Its bas relief depicts trees and St. Christopher carrying the Child Jesus that makes me think of a summer paradise. I find it unique that someone would design a church facade incorporating it with island elements. Its yellowish color is a product of mixing adobe with limestone, coral, and egg.
It also has a circular driveway that reminds me of Fuente Osmena circle! It's so beautiful that visiting it alone, under the heat of summer sun and witnessing another UNESCO heritage site is overwhelming.
Guimbal Church (San Nicolas de Tolentino Parish)
The Guimbal visitation is an impulsive decision. I spent an hour traveling from the city to Miag-ao to gaze in admiration at one of the UNESCO world heritage sites and I want to make it worth my time.
Though it was high noon and I'm hungry, I took a detour to visit Guimbal Church which I passed en route to Miag-ao. It was just in the neighboring town and I can still spare a few minutes to visit it.
The St. Nicolas of Tolentino Parish has a yellowish facade because of the mixture of yellow-colored limestone blocks and "igang" or coral stones powder in the cement. Guess using limestone and eggs was all the rage back in the Spanish regime.
Of all the churches I visited, I love Miag-ao and Molo churches. Both my Bacolod and Iloilo church experience made me appreciate more about church architecture and art. I hope I was able to convince you to visit both cities for its beautiful churches.